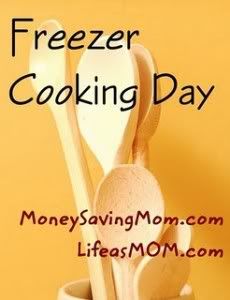 I read posts on
Money Saving Mom
all the time about her freezer cooking days. I'm always saying I'm going to give it a try. I even gave it a half-hearted try when we first moved here (as in, while standing among mountains of cardboard boxes).
It didn't work.
I'm good about making a double to quadruple batch of things when cooking and freezing the extras... tacos, chili, soups. But I've never really hunkered down to say I'm going to just spend all day in the kitchen.
So... I'm gonna give it a shot!
I'm in the planning stages right now, and I'll keep editing this post until I have my real menu down (and I'll do another with my prep list). If I'm being honest, I'll probably get a head start on some of this Sunday night, and there's a good chance that one or more of the "dough things" will get carried over to either Sunday night or Tuesday - since there will be a lot of breadiness going on and will have to separate wheaty from gluten-free (thank goodness for two bread machines!).
Current running ideas:
1-2 batches
GF pizza dough
1-2 batches
wheat pizza dough
1-2 batches brown rice tortillas (experiment with recipe below - 2 only if it works!)
1-2-3 batches
wheat tortillas
1-2
Best Bread Machine Bread
1-2 baked brown rice
first OAMC foods to be frozen!
Whole wheat lemon poppy seed muffins
(if time allows)
Rice mixes for quick side dishes:
1 Herb Rice (chicken)
1 Herb Rice (beef)
1 Rice for Beef
1 Curried Rice
all from
Incredible Edible Gluten-Free Food for Kids: 150 Family-Tested Recipes
by Sheri L. Sanderson
Outside the all-starch-festival...
Double batch of Slow Cooker Beef Stew
cooling in crock to bag and freeze
Slow cooker split pea soup
ditto
2
lasagna
(1 wheat, 1 GF) (meat filling was made a few weeks ago and frozen. It is thawed in the fridge, I'm using spaghetti sauce, and I've got everything else ready... just need to do it!)
1-2-3 GF
Oven fried Chicken nuggets/fingers
I replace crumbs with crushed rice or corn chex! (chicken breasts have been pounded and chopped and are soaking in buttermilk in the fridge - and we keep a bucket each of crushed corn and rice chex)
1-2 Sloppy Joes*Bacon, Egg and cheese biscuit cups
I'm going to make these later in the week
1-2-3 Chef Mis-Er-Ly's beefy macaroni*
I made a double batch, but was enough for 3 freezer bags - so it counts as 3
1-2-3-4-5-6 pounds beef taco filling
Cooling to be put away =)
*As much as I would love to put away completely finished sloppy Joes and Chef Miserly's dish, I can't claim that I'll still have the energy. I will, however, start out by browning a bunch of ground beef and refreezing it after that. At least it will be ready to grab and throw into whatever recipe needs it.
Never mind =)
1-2-3-4-5-6-7-8-9-10 pounds ground beef, browned
Done
Now to see if I have any sanity left over with which to complete this undertaking!