On Thursday, we took a family trip to Wal-Mart to get some pull-ups and an egg slicer (ours was broken in the move). While we were there, we did our normal shopping of the clearance meats. My husband found these steak medallions and wanted to try to find a recipe like something he had tried at Olive Garden. He even found
a recipe
right away!
Friday afternoon when he returned from work, he started reducing balsamic vinegar to make the glaze. Our house smelled like an Easter egg dying factory fire! My lungs were burning until we opened the windows and turned on the hood vent over the stove. Small price to pay considering he paid about $2.50 for the bottle of vinegar - and a bottle of the glaze was about 4 times that (for a *small* bottle).
We ended up making a lot of changes to the recipe for my celiac and to get the kids to eat it and still get some of the good stuff =) Plus my husband doesn't like green onions, sun dried tomatoes were too expensive, and we forgot the parsley. Do I sound like an allrecipes reviewer yet ;)
We used Trader Joes GF rotini noodles. We didn't have any alfredo on hand, so I made my knock-off (2 cans goat milk that we have left over from when my daughter received it through WIC, "enough" Parmesan cheese - a cup maybe?, and some garlic powder). Then we added the fresh spinach (cuz that's what we had). We knew my son would pick it out of the sauce, so I had the brilliant idea to break out the immersion blender and make it un-pick-outable!
We're still out of propane, so my husband did the medalions on the Foreman grill. Before this, he used the salt-caking technique
here
to make them much more tender (and they really weren't too salty at all!) It turned out to be a good thing, because they probably would have fallen through the grill outside.
The end result? The kids didn't like the balsamic glaze (we didn't think they would - we didn't put it on their bowls but let them try ours). They *loved* the "alien slime pasta" with "stinky cheese" sprinkled on top. They even ate some of the steak (they love beef, but they aren't big steak eaters).
And... it turned out BEAUTIFUL! Don't you think?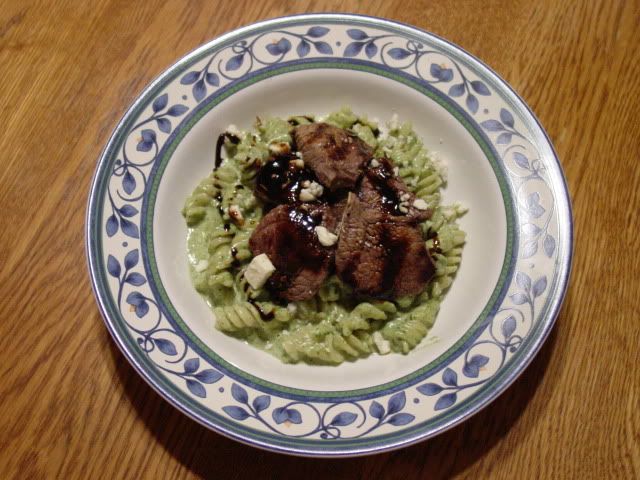 Close up...