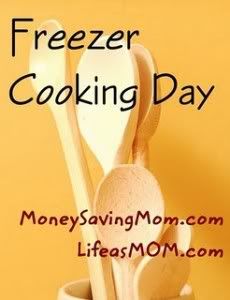 Well... I'm tired =) I didn't get any new cooking done since my last post, but I got a lot of "bagging and tagging" done, transported meals to our freezer in the garage, brought the rest of the stuff up for the lasagnas that will be put together after the kids are in bed... and I *may* still take a stab at the GF tortillas.
So, I didn't finish
my whole list
, but I still got a LOT more accomplished than I thought I would or could. I'll try and get a picture up before we start using it all up, but my list of what's available for dinners now:
1/2 gallon of chili (previous mega batch)
2, 24 count meatballs that just need reheating and sauce
2, 4 cup bags of cooked brown rice
2 dinners of sloppy Joes
3 dinners of Chef Mis-er-ly
6 dinners of beef tacos
4 dinners of beef stew
3 quart bags of split pea soup (I'm the only one that likes it... so this is 6-9 meals for me!)
4 rice side-dish mixes
By the end of the night, I'll have:
3 pounds of chicken nuggets
1 wheat lasagna (3-4 dinners)
1 gluten free lasagna (8 meals)
I hope to be able to continue on my list tomorrow - but we are also making the soups for soup supper on Wednesday night. I've got more planning to do!