One little known fact about me. I used to be terrified of yeast. TERRIFIED. I would have nightmares about dough left to proof getting out of control and taking over my house. There's an episode of Pinky Dinky Doo where everyone in the family keeps adding baking soda to her fluffy buns recipe (because she forgot it once) - and the dough rises so quickly that the whole apartment building goes up to the moon and everyone in the building has to eat fluffy buns to bring it back to earth. Yeah... like that.
I eventually got over my fear of yeast and became a pretty good baker, if I do say so myself. Then, shortly after moving to the Oregon coast, I was diagnosed with celiac disease and had to learn the very different world of gluten-free baking. Oh, I still do "regular" baking for my family, but GF is a whole other ballgame.
Then? Then we moved to Colorado. 6000 feet up. You know those directions on the back of the cake mix that say "High Altitude Directions?" That's me. You have to reduce the yeast and up the flour and sometimes equally up the water, unless you don't. And extend the time. Or is it reduce the time and up the temp? AHHHHHH!!!!
In the interest of saving money, I've taken to baking most everything from scratch. I made up a batch of pizza dough the other day (finally... it was supposed to be on OAMC day). It worked out just fine - but this was the end result of the dough cycle on my gluteny bread machine...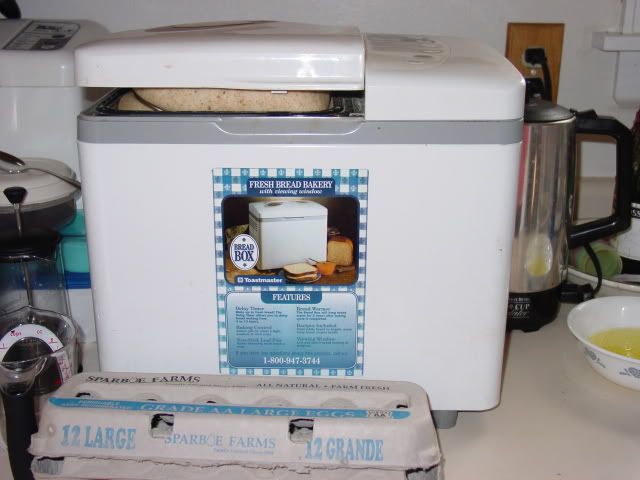 It's not just a nightmare... it's REALITY!!!!