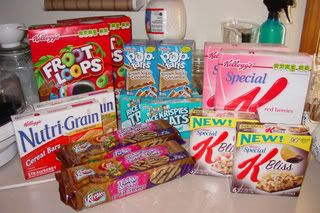 I got all this stuff FREE. Okay, well, it comes out to free. Walgreens is running a sale where you buy certain groupings of things (4 cereals for $10, 4 bars for $10, 5 snacks/cookies for $10) and you get a $5 register reward for your purchase. This Sunday's paper had a special coupon section from Kelloggs - full of coupons for $1 off 2 of certain products. Then if you buy 10 Kelloggs products, you can send in your receipt for a $10 rebate.
Now, as seems to be my luck with Walgreens, we had trouble with getting the register rewards to print out. SO I went through this whole thing with the manager of returning my order, buying it again (because he wouldn't believe me when I said that I should just return two of those groups and buy them each separately), and still having difficulty with only getting 1 more register reward... so he gave me $5 cash. But here's the breakdown...
2 Fruit Loops @ $2.50 each
2 Special K @ $2.50 each
2 Nutragrain bars @ $2.50 each
2 Special K bars @ $2.50 each
2 Rice Krispy treats @ $2 each
2 Pop Tarts @ $2 each
2 Fudge Stripe cookies @ $2 each
(this is one product more than needed for the register reward)
Total: $32.00
I had a $1 off coupon for each set above - or $7 in coupons
Total: $25.00
If they would have been purchased in these groups as three separate orders, I wouldn't have had to have the manager involved. But it all worked out for me to get 3, $5 register rewards
Total: $10.00
Mail in rebate for $10 off 10 Kelloggs products
Total: FREE!!!!
I'll have to come back later and talk about the other great deal I got - set up the stuff to take a picture and everything before I post.
(They also have coupons for some school supplies for $.09 each. I got 2 packs of pencils, 2 packs of black pens and 2 packs of highlighters for $.56. They had a donation box there for Lincoln City schools, so I threw half of those purchases in there. Still, coming home with 10 pencils, 10 pens and 6 highlighters for $.56 is still a great deal!)
VERY IMPORTANT EDIT!!!!!
If you decide to do this, you'll have to go through and do the same fight that I did. Buy everything together on
ONE
receipt and then get the manager involved if your register rewards don't print. One of the caveats of the $10 refund from Kelloggs is that all the products have to be purchased on
ONE
receipt!
I goofed this one pretty badly by shopping on the 3rd when the rebate didn't start until the 5th. The word is that the good people of Kellogg's have pushed the start of this rebate period back to the 2nd. I'm awaiting an answer to my emailed inquiry to confirm - but I'm pretty sure it's true!