Less of a fiasco than Walgreens was my trip to Wal-Mart today. I saw a coupon in the paper yesterday (I get Sunday's paper on Saturday night to plan that week's shopping - since many times we shop on Sunday) for Pert Plus (or Secret) and a school supply rebate. There were 2 Pert (and 2 Sure - I don't use that) coupons attached to this rebate form. $2 off any bottle that was regular size (I don't remember the ounces off hand) or more and $3 off any bottle that was the bigger size or more. The rebate form was a $5 rebate on school supplies when you bough $5 in Pert or Sure products. Sooooo....
Geof's shampoo of choice is Pert's Happy Medium, so it wasn't even like I bought something we wouldn't use just for the sale. (This is a great time sale-wise for us to stock up on it... the free-after-rebate bottle last week from Walgreens, this deal, and I still have a Safeway coupon from last weekend making a bottle $1.99.) The small bottle was $3.12 (-$2 = $1.12), and the larger bottle was $4.34 (-$3 - $1.34). Then it was off to the school supply aisle where Wal-Mart was having my favorite ever sale... Crayola Crayons!!!! The other prices were great, too. Here's how the things in the picture broke down:
$.22 - crayons
$.22 - crayons
$.88 - markers
$.27 - ruler
$.27 - ruler
$.22 - glue sticks
$.22 - glue sticks
$.22 - glue
$.50 - composition book
$.88 - colored pencils
$.88 - colored pencils
$.57 - pencil box
Total - $5.35
Okay - so take out a ruler to bring it closer to $5. Or I could shift around with some of the other cheap school supplies I purchased (I bought 2 more boxes of crayons and 2 spiral bound notebooks - those were $.05 each - to keep in the car for each of the kids. I figured I could justify spending $.27 each to keep them entertained while we wait for doctors or restaurant food or whatever. I also bought some construction paper and a K-1st writing tablet for practicing hand writing for Robert this coming year.
Plus some mini-fun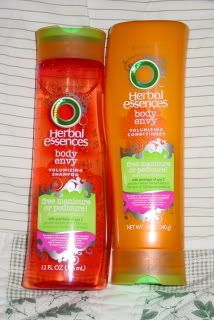 Herbal Essences is running a "buy two products, get a certificate for a free manicure or pedicure" deal through the end of the year. This weekend they also had a $2 off coupon, and the shampoos and conditioners were decently priced (these were $3.23 each). This isn't a major big score or anything, but I do love getting a pedicure and just can't justify doing that now... so I went for it (and I'll have some great smelling hair in the process!). I screwed this up a bit. I needed an original cash register receipt... but so does the Pert, and they're on the same receipt. So the next time I'm at a Wal-Mart, the customer service lady I spoke with said I should just return them and buy them again immediately = new receipt.