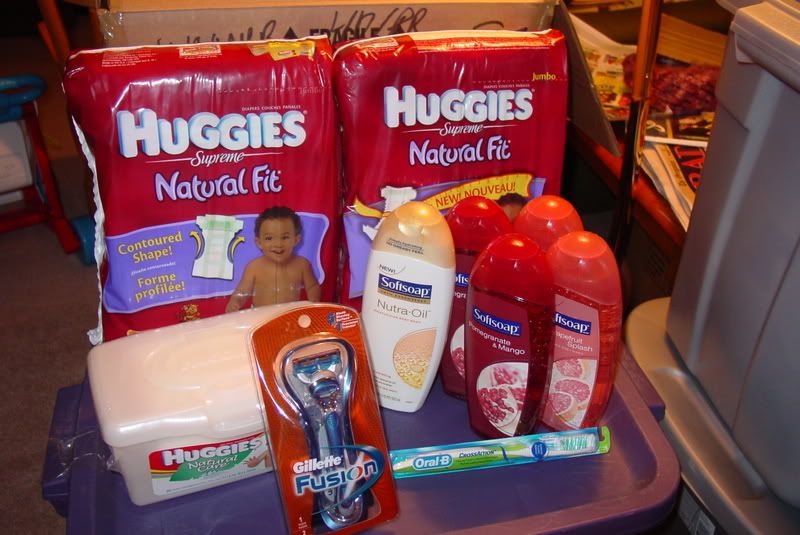 I hit up Walgreens on their $5/$20 offer twice today. Because I'm there at least once a week - usually twice - I'm starting to get to know the people who work there and they're starting to get to know me as well. There's only one there that seems, well, exhausted when she sees me coming. So I just try and smile and make small talk and let her get back to work. If nothing else, I want to make sure that they realize I appreciate them being there and that I only do fair and real deals. I don't want to scam anyone in the process - just get what I can to care for my family for as little out of pocket as possible.
Anyway -
Order 1
Huggies Natural Fit diapers $9.99
Huggies Natural Fit diapers $9.99
Huggies Unscented wipes $3.99
Subtotal $23.97
Coupons:
-$.50 on Huggies wipes
-$1.50 on Huggies diapers
-$1.50 on Huggies diapers
Subtotal $20.47
-$5.00 $5/$20+ coupon
Total $15.47 (gift card) and received $5.00 RR for $20 or more in Huggies products
I realize with this one that there was some divine intervention and a misunderstanding on my part - the latter of which I just caught now. So I won't be trying to do this again and I ask you to please not try and do the same thing.
Order 2
5 Softsoap body washes @$3.49 each $17.45
Fusion razor system $8.99
Oral B manual toothbrush $4.49
Subtotal $30.93
Coupons:
-$1.00 Softsoap nutraoil body wash
(limit one per household)
-$4.00 Fusion Razor from Sunday paper
-$.75 Oral B toothbrush from Sunday paper
-$5.00 $1/1 Softsoap bodywash IVC in the October ESR booklet
Subtotal $20.18
-$5.00 $5/$20+ coupon
Subtotal $15.18
Here's where I made the mistake. I didn't realize that the RR were marked as manufacturer's coupons. So I should have used $15.18 off my gift card. I will make sure not to use those with these deals again because they are supposed to be $5 off $20 AFTER ALL COUPONS. The divine intervention came in when the girl accidentally scanned it twice. I even pointed it out to her - that my total should have been $10.18 - not $5.18 - but she said that the computer scanned it wrong and not to worry about it. So...
Total $5.18!!!
PLUS!!!!
$10.00 RR for buying 5 Softsoap products
$4.50 RR for buying the Oral B toothbrush
$4.00 RR for buying the Fusion razor.
I am FLOORED! Plus, these are very much going to come in handy in the next week because I have to do a test that requires some prep with over the counter medications. So this $18.50 will cover the cost of these OTCs, plus one other free after rebate item that I plan to purchase. And I still have over $26 on my gift card!